I have been thinking about painting my front door black for a while now and finally took the plunge! I figured...it's only paint, right? If I don't like it, I will paint it back again!

I am going to go ahead and show you a "in process" shot to give you an idea of what it's going to look like...as you can see, I need another coat or two!




The overhead light is very bright....so, here's a few with it turned off!
I am loving it so far. However, I have startled myself a few time coming around the corner. I keep thinking I have left the door open.

This brings me to my next topic...The Launch Pad.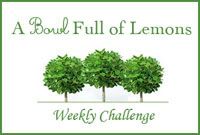 This week's Challenge over at A Bowl Full Of Lemons was to create or show off our homes own Launch Pad.
I have shown parts of this area already...
here
and
here
.
Notice the purse on the closet door and bags by the table. This is my Launch Pad...the area that helps get us out the door in the morning and where we unload in the evening.
This small bookcase has baskets for our scarfs and gloves and is the spot where I go through the mail each day. And at night, we pile up everything that needs to go with us in the morning.
I have my laptop and work bag full of lesson plans and my daughter has her backpack loaded with her lunch bag on top (not packed yet but you know I have the snacks and lunch items ready to go!).